Prenormative research "WAAMMEC" Wire Arc Additive Manufacturing: weldability and mechanical properties of structural steel components
Last modified:
02-10-2023
Additive Manufacturing
Additive Manufacturing forms an essential link within Industry 4.0. Blegium is one of the frontrunners in Metal Additive Manufacturing, or 3D printing of metal parts. A promising technology for large structural components is Wire Arc Additive Manufacturing (WAAM). This technique allows metal parts to be built from welding wire using a standard welding robot.
WAAM, like other 3D printing techniques, can be used to produce unique pieces, small series or prototypes. Parts with complex (internal) geometry or products composed of multiple materials can be manufactured more efficiently using 3D printing than conventional processes. WAAM uses standard welding robots. 
| | |
| --- | --- |
| Example of a WAAM additive manufactured part  | Example of a WAAM additive manufactured part |
Project goals
The main objective of the research project is to "generate data" regarding:
quality requirements,
parameter settings,
mechanical properties (static as well as fatigue),
geometrical characteristics
test recommendations for WAAM printed parts as input for EN or ISO standards.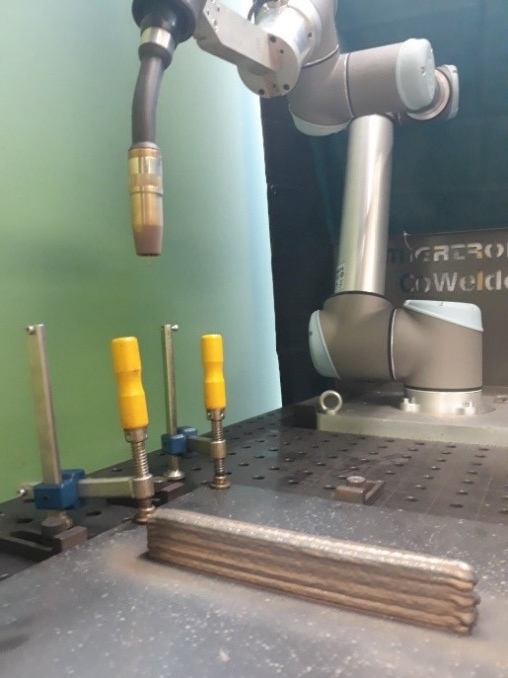 Results
Results
The results are contained in a technical report that can be downloaded free of charge in the publications section
Another objective of the project is to formulate adaptations for a number of application standards for structural components, e.g. "Pressure vessels prEN 13455-14: Unfired pressure vessels - Part 14: Additional requirements for pressure equipment and pressure components fabricated with additive manufacturing methods (legislation PED 2014/68/EU)"
Design and quality data
Currently, the designer has very little data on the mechanical properties (especially fatigue properties) and the expected welding and printing quality for a given application. This prevents the further application of the 3D WAAM process in industry. This WAAMMEC project aims to give companies/designers/welding engineers insight into these (fatigue) properties and develop a methodology for (rapid) testing. This research will also contribute to the development of (new) standards/guidelines for additive manufacturing.
Industrial added value?
The project will help further disseminate this innovative 3D printing technology. Creating a normative framework will lower barriers to its implementation in the industry. This project will provide companies with a significant competitive advantage in many ways: 
accelerated prototyping and customisation
"one-off" products such as castings or small series 
repairs
reducing conventional milling and turning work