3D printing through a (standard) welding robot: Wire and Arc Additive Manufacturing (WAAM)
Last modified:
26-07-2019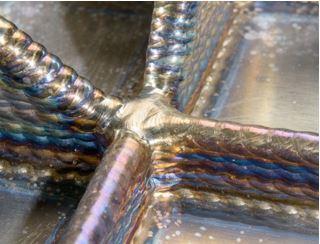 Quite some interesting results have been achieved with this technology in research centres outside Belgium. For example, in relation to printing spare parts for offshore and maritime applications, the space and aviation sectors, prototypes, repairs, alternative for castings, etc.
Our intention is to also build up this knowledge in Flanders through practical research. We achieve this by linking the competences of the Belgian Welding Institute (BWI) to the knowledge related to metal 3D printing at VIVES and the welding technology research group of KU Leuven.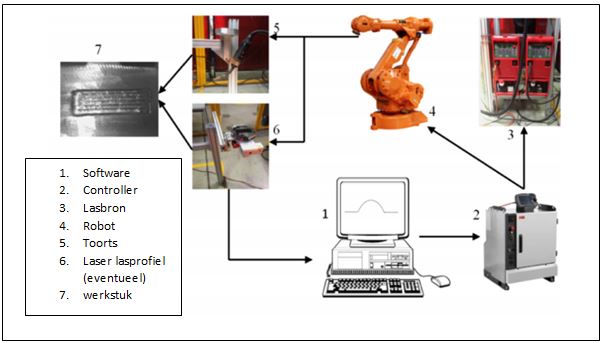 Typical schematic representation of a WAAM process
Project goals
Additive manufacturing forms an essential link within Industry 4.0. Flanders is one of the leaders in the field of Metal Additive Manufacturing or the 3D printing of metal parts. A promising technology that receives however very little attention in Flanders is Wire Arc Additive Manufacturing (WAAM). Metal parts can be built up by using electrode wire and a standard welding robot. Research centres in the countries surrounding Belgium have already achieved many interesting results with regard to this technology.
Like other 3D printing technologies, WAAM can be deployed for the production of unique pieces, small series and prototypes. Parts with a complex (internal) geometry or products that consist of several materials can be fabricated more efficiently through 3D printing than when you use conventional processes. WAAM uses standard welding robots. A welding robot can weld several kilos of material per hour and therefore larger parts can be produced more cost effectively and faster than with other 3D printing technologies (usually based on powder). An additional benefit is that companies will ensure that their investment in a welding robot will pay off better because the robot can be deployed for 3D printing work at times when the robot would otherwise be idle (at night and weekends).
The general objective of this practical research project is to make companies aware of the WAAM technology and to give them the tools to use the possibilities of WAAM themselves.
Specific objectives:
Research of the possibilities to convert a random welding robot to obtain a WAAM 3D printing robot.
KPIs: To organise 3 workshops or company visits related to WAAM printing and converting at least two existing welding robots for WAAM.
Give participating companies in-depth insight into the possibilities and restrictions of WAAM and give them the knowledge to get started with this technology themselves based on specific cases.
KPI: To work out 3 specific cases.
Set up training for operators and/or integrating training in existing courses.
KPIs: To work out one training course in relation to 3D WAAM printing and set up a practical manual for (product) designers.
Project description
Based on a number of specific cases, we will provide insight to participating companies about the possibilities of this technology and provide them with the knowledge to get started with this technology themselves. 
Since WAAM uses standard welding robots (for example, semi-automatic), this process may offer an opportunity to have existing investments in welding robots pay off better. The overcapacity that currently exists in many companies can be further used by using the robots for 3D welding work when they are normally idle (for example, at night and during weekends).
By participating in the joint research project, you will gain insight into the preconditions and technical and financial aspects of this technology.
We are looking for different companies for this:
Suppliers/manufacturers of welding robots and system integrators
Software developers (CAD/CAM, price calculation, etc.)
Companies that have possible applications for parts produced with the WAAM technology.
Companies that produce components that involve a lot of milling or machining and where WAAM would require less post-treatment or finishing.
Companies that deploy welding robots in their production process and are interested in the use of WAAM technology with regard to their machinery.
Design agencies that want to know more about the possibilities with regard to designing WAAM pieces.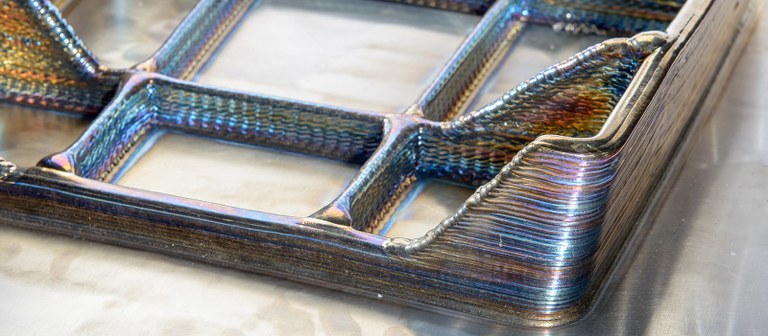 The same drivers apply within this context as with other additive manufactured parts:
Unique workpieces (customisations) or small series
More complex (internal) geometry - Combination of functions
Saving of weight
Multi-materials
The pieces that are produced through WAAM are metal parts that are designed quite roughly with regard to their surfaces (cfr. sand casting). The minimum wall thickness (width) for WAAM semi-automatic processes is approximately 4 mm.
If interested, please contact: