COAMWELD : Advanced metal components through optimal combination of additive manufacturing and welding techniques
Last modified:
20-10-2023
Context
Manufacturing parts using additive manufacturing techniques (AM) is becoming more and more common. There are already 18 (!) [1] different techniques commercially available for additive manufacturing of metal parts.
Among the different AM techniques, metal powder bed fusion (PBF) based AM processes are capable of fabricating metallic parts using many engineering alloy powders. Selective laser melting (LPDF = SLM  [2]), and electron beam melting (EBM) are the most commonly used PBF based AM processes. In SLM processes, layers of metallic powders are selectively melted by using a laser beam, resulting in a printed solid part on a base plate. In EBM processes, instead of a laser beam, an electron beam is used as power source.
Metal injection moulding (MIM [3] is a metalworking process in which finely-powdered metal is mixed with binder material to create a "feedstock", which is shaped and solidified using injection moulding. The moulding process allows high volume, complex parts to be shaped in a single step.
Directed Energy Deposition (DED [4]) uses a focused energy source, such as a laser or electron beam to melt the material. However, the material is melted at the same time as it is deposited by a nozzle. In a way, the technology is at the frontier of material extrusion and powder bed fusion.
WAAM [5] (Wire Arc Additive Manufacturing) is a variation of the DED technology and uses arc welding processes for 3D printing of metal parts. WAAM works by melting a metal wire using an electric arc as the heat source.
On the market, the powder bed technology (SLM, EBM), cladding (= DED), WAAM and MIM-based techniques are most present, each technique having its specific advantages and disadvantages. SLM is mainly used in medical, aerospace and tooling. However, metal printing in construction, mechanical engineering and mechanical design is lagging behind.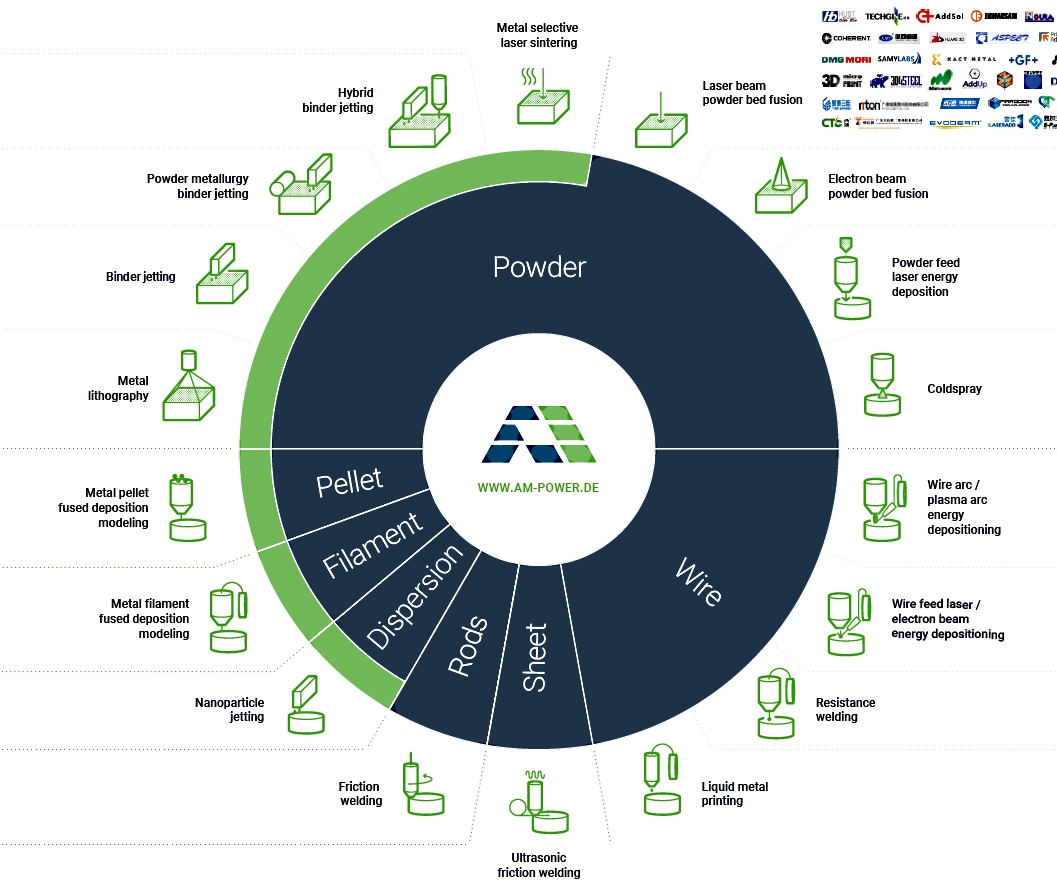 | | |
| --- | --- |
| | |
| | |
| | |
| | |
More information:
Needs 
An important issue that needs to be solved before the AM techniques can find a widespread use is the maximum dimensions of the components that can be produced. Nowadays, the dimensions of the final components are limited by the size of the workspace of the machine, and it is very difficult to produce machines with a bigger workspace. An intriguing solution to overcome this limitation is to join the additive manufactured parts in order to obtain bigger components.
The following topics need to be investigated:
Which processes can be used to connect metal-printed parts to conventionally manufactured pieces?
Guidelines for the optimal combination of conventional techniques and AM techniques.
What are the consequences of the applied welding process for the (mechanical) properties of the parts and for the connection itself?
Project goals
The project goal is the development of joining concepts for joining metal printed parts to each other and to conventionally manufactured components. Welding of metallic 3D printed parts can be problematic, because the parts have a different structure (density, microstructure, …), compared to each other, and especially compared to parts made out of conventional metals.
Currently, no guidelines exist for creating such welds. This knowledge will be developed in order to join these dissimilar metal combinations in a qualitative way. Different joining technologies will be considered, and their feasibility will be investigated for a selection of welding processes.
Results
Click here for a summary of the project results
Info meeting
An info meeting is being planned and will be communicated here soon.
Interested in participating?
How can this project add value to you?
In this project we treat with priority cases from the participating companies.
You will discover the possibilities of Metal AM in detail.
You will join an interdisciplinary team, where the various actors from the business world are present.
You actively participate in an innovative project and keep up to date with the latest insights and developments.
Specifically, we are looking for companies that want to participate in the guidance group.
Companies / machine builders / constructors who use metal printing and companies with an interest in metal printing.
Suppliers of machines, software and accessories (gas, wire, powders).
What does such engagement involve?
You guide the investigation and determine the direction of the matters to be investigated.
You will receive all project results.
As a member of the support group you participate in various consultation moments (2x / year). The project runs for 2 years
Input needed
Because your vision is important and valuable to us for further realizing this research project, we offer you the opportunity to participate in this research.
Contact
If you are interested or would like more information, please contact one of the following persons who will be happy to help you.
Koen Faes 
Tel:  09/292.14.03
Website: www.bil-ibs.be