Acoustic emission as a quality monitoring tool for automated fusion welding and cladding processes
Last modified:
22-02-2021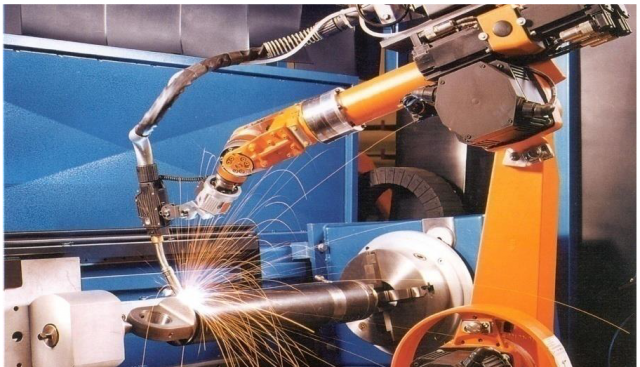 Focus on fusion welding and cladding processes
Fusion welding and cladding processes, such as metal active (inert) gas welding, TIG welding, laser welding and laser metal deposition, play an important role for a wide range of industries. These processes are fully automatable, which has helped their introduction for mass production. High production rates, combined with the fact that these processes contribute to high-quality parts raises the need for traceability during manufacturing, wherein quality monitoring on the level of individual joints is indispensable. This quality monitoring is preferably performed on-line, for two reasons. A first aspect is that off-line monitoring techniques are typically time intensive and require highly skilled personnel. Secondly, off-line alternatives often don't allow to monitor the full production output, which is of increasing importance for assembly lines producing high-performance parts.
Acoustic emission monitoring
For some of the aforementioned automated fusion welding and cladding processes, this need has led to development of in-line quality monitoring techniques. However, available monitoring systems are often focussing on detection of a limited set of quality parameters and are expensive to implement. As an alternative to existing techniques, acoustic emission monitoring (AEM) could serve as an overall process monitoring system, taking into account a wide range of quality related aspects.
AEM has been successfully applied for monitoring of structures and processes. Examples are bearing condition monitoring, the detection of cracks in civil structures or observation of partial discharge losses in power transformers. However, welding and cladding processes are typically characterized by their incontiguous, highly transient behavior, making conventional AEM data analysis unsuitable for quality monitoring of these processes. Nevertheless, recent research by the applicants has proven the applicability of AEM for pressure welding processes.
Project goals
Within this project, AEM will be investigated for the aforementioned fusion welding and cladding processes. In contrast to existing on-line monitoring techniques, the application of AEM could allow capturing information concerning a wide range of phenomena, hence assessing multiple quality related aspects with one single sensor. Three fusion welding and cladding processes will be studied by the three cooperating research institutions: metal active / inert gas welding (Belgian Welding institute), laser welding (KU Leuven), TIG welding (univ. Wroclaw, Poland) and laser metal deposition (Uni Kassel, Germany). By applying AEM for these processes, possibly enriched by measurements of process variables present in standard industrial setups, and analysing the captured data with machine learning models, correlations between the measurement data and physical phenomena occurring during production will allow assessing the quality of the parts produced.
The objective is to develop an in-line monitoring system capable of assessing multiple quality criteria, especially those not covered by the currently available in-line monitoring techniques, related to the aforementioned processes.
Project description
How can this project add value to you?
In this project we treat with priority cases from the participating companies.
You will discover the possibilities of rel-time quality monitoring.
You will join an interdisciplinary team, where the various actors from the business world are present.
You actively participate in an innovative project and keep up to date with the latest insights and developments.
Specifically, we are looking for companies that want to participate in the guidance group.
Companies using laser welding, MIG/MAG- and TIG-welding and LMD cladding. 
Suppliers of machines, software and accessories (gas, wire, powders).
...
What does such engagement involve?
You guide the investigation and determine the direction of the matters to be investigated.
You will receive all project results.
As a member of the support group you participate in various consultation moments (2x / year). The project runs for 2 years
Input needed
Because your vision is important and valuable to us for further realizing this research project, we offer you the opportunity to participate in this research.
Contact
If you are interested or would like more information, please contact one of the following persons who will be happy to help you.
Arnout Dejans
Maakprocessen en -Systemen (MaPS), Campus De Nayer Sint-Katelijne-Waver
Jan Pieter de Nayerlaan 5
2860 Sint-Katelijne-Waver
Contact : https://www.kuleuven.be/wieiswie/nl/person/00089082
Koen Faes
Tel:  09/292.14.03
Website: www.bil-ibs.be